| | |
| --- | --- |
| | |
Eastbourne Police Weekly News and Alerts
Alert message sent 07/06/2019 19:02:00
Information sent on behalf of Sussex Police
---
Friday 7th May 2019
---
News and appeals
The historic 12th century Langney Priory at Eastbourne, currently being restored, has received a £500 boost from Sussex Police.
(L to R) Jennifer Murray, project manager; PCSO Daryl Holter; James Murray, community liaison manager.
It was secured by Police Community Support Officer Daryl Holter from the Police Property Act Fund, made up of monies received by the police from property confiscated by order of the court and then sold.
PCSO Holter, a heritage crime officer, said: " I am really happy to help the team leading the project.
"The aim is to restore Eastbourne's oldest building and use it as a community resource to promote new business and become an essential part of the local community accessible to all.
"Particular aims are to train and up-skill all ages and hard-to-reach groups including long-term unemployed people, those with mental illness struggling to get back into work, and ex-offenders in such areas as hospitality, catering, construction and horticulture."
PCSO Holter said the Priory dates back to 1121 and described it as "a vital part of Eastbourne's history".
Community liaison manager James Murray said: "The funding is a great step forwards. We will be purchasing closed circuit television (CCTV) to cover the site and help us with security. We are very grateful to Sussex Police for making it a possibility".
Three arrested after man attacked in Eastbourne street
Detectives are seeking witnesses to a late night incident in Eastbourne in which a man sustained head injuries.
Shortly before midnight on Saturday (1 June) the 26-year-old man was kicked in the head in Bolton Road, Eastbourne. He was taken by air ambulance to Kings College Hospital in London where his condition is now reported to be stable and not life threatening.
Three men aged 30, 27 and 26, were arrested on suspicion of grievous bodily harm. After being interviewed they were released on police bail until 30 June while enquiries continue.
Detective Constable Jim Moore said; "We would like to speak to anyone who saw what happened. In particular we understand some people at the the scene may have recorded it or the aftermath on the mobiles and we would like to hear from them too."
If you have information please contact Sussex Police online or by calling 101, quoting Operation Burshill.
You can also contact the independent charity Crimestoppers anonymously on 0800 555 111.
Community Speed Watch volunteering opportunities
This week has been National Volunteers Week (June 1st-7th), and we have been showcasing some of our great volunteers and their contributions on our social medias.
Yesterday saw us focusing on Community Speedwatch - CSW is a national initiative where active members of local communities join with the support of the Police to monitor speeds of vehicles using speed detection devices.
For more information and details on how to volunteering in your local area please visit: https://www.communityspeedwatch.org/FRONT-Main.php?m=0
Stephen's Story:
Stephen O'Connell is one of our award-winning volunteers. As a Community Speedwatch (CSW) volunteer, he is motivated by a desire to save lives. He started out with us on his local streets in Seaford. But six years on, Stephen has made an impact county-wide, having trained a network of over 1,000 CSW volunteers across Sussex. In that time Sussex has seen an 8 percent drop in recorded speeding violations in that period.
At the same time Stephen's training of the CSW volunteers ensures that motorists who are stopped are treated fairly and with respect at the roadside.
His approach, which is being replicated by other forces, recently earned Stephen a commendation from Chief Constable, Giles York, and he was presented with a Lord Ferrers Award for volunteering in policing in 2018.
Stephen, who will soon be joining us in a staff role, shares what drives him: "I find volunteering very rewarding. It's been a great way to use my HR and management experience and skills to make a real difference to communities.
"But the greatest reward is knowing I am helping to reduce death and injuries on the roads of Sussex."
A week of unprecedented demand on Surrey Police and Sussex Police forces has passed successfully, despite a number of large and high profile events across the two counties.
The forces had support from across the country and further afield as officer's leave and days off were cancelled to ensure normal service wasn't impacted by the week's events.
The first event was on Bank Holiday Monday with attendance at the Surrey County Show in Guildford where policing teams showcased their skills to thousands of attendees.
On Friday and Saturday, the Derby festival at Epsom Downs Racecourse was attended by Her Majesty the Queen, and more than 36,000 racegoers. Despite number of attendees, only seven arrests were made. Police dogs, search units, public order officers, drones and firearms officers were at the event to keep the public safe.
In Brighton, a sunny Saturday attracted thousands of extra day trippers, on top of the usual weekend visitors. The day passed without serious incident, despite the addition of 30,000 people estimated to have attended the Kemptown Carnival; and 24,000 fans at the Amex Stadium for the Lionesses last game before the Women's Football World Cup.
Saturday also saw the Hells Angels Motorcycle Club (HAMC) Euro Run 2019 take place. This was a ride-out of club members from Pease Pottage to Brighton. It was part of the HAMC's 50th anniversary celebrations of being in the UK and involved approximately 3,000 members from all over the world staying on the Surrey and Sussex borders for a separate private event (further details of arrests here:https://news.sussex.police.uk/news/charges-and-sentences-connected-to-hells-angels-euro-run-2019-371178).
There was also the small matter of two all-English European Cup football finals, bringing fans out to pubs and clubs without any notable incidents.
Assistant Chief Constable Nev Kemp said:
"This has been a hugely busy week for both forces and I'm incredibly proud of the efforts I've seen from all involved. Many months of planning and hard work have gone into making all of these events run as smoothly as possible.
"Public safety has been our main priority and we have had to put in place highly visible tactics this week which has significantly reduced the risk to the wider public and those wanting to enjoy themselves at all these events."
From Wednesday (May 29) an order under Section 60 of the Criminal Justice and Public Order Act 1994 was introduced, allowing stop and search of individuals within a designated area of Surrey and Sussex, following information that some attending the HAMC event may be carrying offensive weapons. In total 49 people have been arrested in connection with the event with a number having already been sentenced at court.
ACC Kemp added:
"We made great efforts to work with the event organiser beforehand to ensure those attending got the message about what was expected here, sadly some didn't heed the warning. However our approach, as well as some self-breath testing by riders ahead of the main ride on Saturday, significantly reduced numbers riding to Brighton. We had initially expected 700, but just over 100 took part.
"This was a unique event that has never happened on anything like this scale in the UK before and required careful planning to ensure the public and those attending were safe and, following information we received as the week went on, I decided to put the Section 60 order in place."
The operation has involved partners from across law enforcement agencies both in the UK and abroad.
ACC Kemp continued:
"We benefited from the knowledge shared by our international colleagues about the attendees from their countries, and the risks that they posed. We were also able to prevent 27 people from even entering the UK. All of those refused entry were international members of the Hell Angels and deemed to pose a risk to the public with previous convictions for serious violent crimes including; murder, kidnap, torture, drug supply, violent assaults and firearms offences. Hells Angels events have not routinely passed without very serious incidents when they have taken place in other countries and a measure of success for us is ensuring that it passed without serious incident here in the UK. Europol have been very complimentary about the UK policing operation.
"The fact that all of these different events across involving thousands of people have passed without serious incident is something that we can be very pleased with. They required significant resourcing, planning and professionalism from police officers and staff because of the varied risks involved and I would like to thank everyone for the work they have put in this week."
Operation Magpie – Keep your home safe this Summer
Sussex Police re-launched our Operation Magpie Summer campaign on Tuesday the May 28th, a summer-long burglary crime prevention and awareness campaign.
Did you know?
Out of 43 UK police forces, Sussex is one of the safest places to live with low rates of burglary compared to other counties across England and Wales. There were 7170 reports of burglary from January - December 2018, 1134 fewer offences (13.6%) over the same period in 2017 (8304).
Sussex Police takes reports of such crimes very seriously. On 1 May 2019, at Lewes Crown Court, Marie Keane, 50, was jailed for seven years for offences including burglary. Marie often claimed to be a carer, and targeted vulnerable and elderly people in their own homes. She was arrested after some excellent police work and pleaded guilty to six offences – three burglaries, two thefts from persons and a fraud by false representation.
Detective Chief Inspector Alasdair Henry, Sussex Police burglary prevention lead said: "We have worked hard to reduce instances of burglary in Sussex over the last year and have seen a significant reduction in reports of this crime. We continue to work to protect members of our communities from this crime and through this campaign we will be offering advice on keeping homes, outbuildings and business premises safe.
"We treat burglary as a serious matter, especially where vulnerable members of the community are targeted and will be sharing examples of where we have prosecuted individuals for such crimes. None of this is achieved without your support and I am really grateful to all our partners, including Neighbourhood Watch and members of the community who work with us to reduce burglary and bring offenders to justice."
To help protect yourself this summer whether you are home or planning a trip away, please read our crime prevention advice online:
https://www.sussex.police.uk/cp/crime-prevention/residential-burglary/
.
Register your belongings on the
Immobilise
national property register. It's free and takes just a few minutes. If your valuables are stolen it will allow you to tell the police, your insurer and second-hand traders to assist in recovering your property and catch the thief. Find out more on their
website
.
Police Officer recruitment opening soon, register your interest now
Less than two weeks until Police Officer recruitment opens…
On 17 June 2019 we will open recruitment for the role of Police Officer. We're looking for people who have the judgment to make quick decisions; are confident to be first person in; have the compassion and empathy to help those in need; who'll have their colleagues back no matter what and the resilience to serve the community every single day.
It's a vital role and offers a great sense of pride from helping and protecting those within our community.
From being the first on the scene or arresting an abuser to being a shoulder to cry on and a reassuring face; this role is thrilling yet constantly challenging. You'll work in a fast-paced 24/7 environment where no two shifts will be the same.
In return, we promise you a good starting salary, great training experiences, opportunities for progression, the chance to achieve a professional qualification in Policing Practice and the pride that comes from helping others. You will become part of our policing family; dedicated to keeping communities safe and feeling safe, identifying and protecting vulnerable people, preventing and responding to harm.
In the past, we've received high volumes of applications, so we recommend that you submit your application as early as possible. Follow our social media accounts for more information.
To register your interest today, please visit:
https://www.sussex.police.uk/police-forces/sussex-police/areas/careers/jobs/police-officers/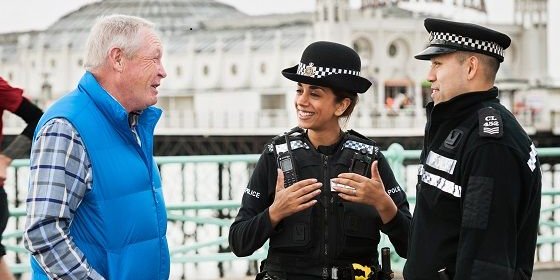 ---
Crime summary
Unfortunately a vulnerable victim was tricked into allowing a male to enter their property off Biddenden Close, Eastbourne in the afternoon of the 31st May. A male has approached the victim and requested he check the water pressure for the property. The male has entered and the victim has shown him to the kitchen. Shortly after the victim has noticed two other male running from their home and the original male has swiftly followed. Fortunately nothing was taken, and Police have been to visit the victim and are offering support and advice. The main male was described as a white male, around 5'8", large build, and wearing normal clothes, not dressed in a uniform.
Please always check with companies prior to letting someone into your home, check their ID. Have you booked an appointment for them to come, if not there is no harm in ringing the water company to check whilst asking the person to wait outside; if they are genuine they will likely wait.
Please report distraction burglaries directly to the Police on either 101, or email 101@sussex.pnn.police.uk or report online at www.sussex.police.uk
Victim's at a property on Grange Road, Eastbourne reported returning home on the afternoon of the 1st June to find their property had been entered by means unknown. Suspects have taken sentimental jewellery and personal jewellery and collector items from their home. Unfortunately there are no lines of Police enquiry. (1111 of 01/06 relates)
An attempted burglary occurred along Jevington Gardens, Eastbourne, whereby the victim has reported a plant pot being thrown through the glass panel of the front door. Fortunately no entry was gained. (0507 of 02/05 relates)
At the beginning of the week, a property off Central Avenue, Eastbourne reported finding their ground floor kitchen window being removed. Unfortunately suspects have gained entry and taken various work tools from inside the property. (0232 of 03/06 relates)
Two school children's bicycles were stolen from their school in Trinity Tress on the 3rd June, where suspects have gained entry to the school, and entered their bike storage area and taken two bikes belonging to students. Police are looking at the CCTV for potential lines of enquiry (0830 of 03/06)
---
Help us keep Sussex safe
If you saw or heard anything, or have any information about any incident in this message please contact us online, email us at

101@sussex.pnn.police.uk

or call

101

, quoting the reference number provided.

Alternatively you can contact the independent charity Crimestoppers, anonymously, on

0800 555 111

, or online at

www.crimestoppers-uk.org
---
Your local teams
Follow your local Police team on social media, click below
:
Facebook:
EastbournePoliceUK
Twitter:
eastbournepol
Visit our Website

to contact your local team, view local news and follow our social media accounts. Simply type your post code in the

'Find a Local Area'

box located in the top right of the web page.
---
Links and attachments:
Sussex Police will only ever link you to secure Websites we trust. We will only send you attachments where we believe it is absolutely necessary.
Message sent by
Jeremy Glew-Deval (Police, Prevention Support and Engagement Officer, Eastbourne, Lewes and Wealden)
Discuss this alert message
Please see terms below before using this feature
Please be aware that the facility above is a Facebook service, posting your views will make some of your Facebook information visible to everyone (as with any Facebook activity).
The system administrators (VISAV Limited) monitor the content added. Any misuse or objectionable material should be reported to
support@neighbourhoodalert.co.uk
.
The views expressed do not represent the views of the system administrators who are VISAV Limited, the Police, Neighbourhood Watch and other Information Provider using this service.